HireLAX Celebrates Graduates of its Fourth cohort
The HireLAX Apprenticeship Readiness Program (ARP) graduated 30 students on Wednesday, March 20, the largest graduation class of any cohort to date.
Los Angeles Southwest College hosts the classes on its West Campus. The latest cohort was taught by LASC faculty led by Instructor Sergio Hernandez.
The students, 57 percent of whom live in communities closely surrounding Los Angeles International Airport (LAX), have successfully completed the intensive eight-week program. This HireLAX ARP, which is free for participants, provides students with a training program focusing on specialized construction skills, physical fitness, OSHA regulations, CPR/first aid response, construction math, labor history, hands-on training and visits to local union apprenticeship training programs and major construction projects at LAX. Students also receive comprehensive case management funded by Los Angeles World Airports (LAWA) and provided by nonprofits Flintridge Center and 2nd Call.
Upon graduation, LAWA coordinates employment opportunities with its construction contractors and facilitates entry into the apprenticeship programs affiliated with the construction unions signatory to the LAWA Project Labor Agreement.
The second class of 2019 and the fifth HireLAX class overall at LASC will have a mandatory orientation for interested students from 7 a.m. to 1 p.m. April 6 on campus at the Little Theatre. The eight-week program begins on April 22. Applicants should RSVP at https://hirelax2019-04-06.eventbrite.com.
"Los Angeles Southwest College is honored to again instruct the next HireLAX Apprenticeship Readiness Program cohort on our campus," LASC President Dr. Seher Awan said.
"With so many substantial building projects in Los Angeles, we believe our local community members should benefit from the opportunity to work on these construction sites. The HireLAX training will ensure that those committed to this program will be best prepared for these life-changing opportunities."
More than 70 percent of graduates from previous classes have already started their construction careers at LAX or other nearby projects.
The HireLAX ARP is a collaboration between LAWA, LASC, Los Angeles/Orange Counties Building and Construction Trades Council (LAOCBCT), Parsons Corporation, Flintridge Center, 2nd Call, and the County of Los Angeles and City of Los Angeles support services network.
The unique collaboration between public agencies, higher education, nonprofits, unions, and the private sector helps residents of Los Angeles or the LAX impact area to become apprenticeship-ready in preparation for construction jobs building the future of LAX.
The program aims to build a pool of local workers who are reflective of the diversity of Los Angeles to meet the high demand for skilled craft labor created by LAWA's multi-billion-dollar capital improvement program. One hundred percent of HireLAX ARP participants are either Los Angeles residents or LAX impact area residents (comprised of the 15 ZIP codes closest to the airport).
The majority of students have come from disadvantaged backgrounds, with more than half experiencing prior involvement in the criminal justice system. In addition to free training, students are supported with LAWA-funded case management and life skills training provided by the nonprofits Flintridge Center and 2nd Call. Both the City of Los Angeles and Los Angeles County also provide support services to the students and graduates through their local America's Job Centers, WorkSource Centers and YouthSource Centers.
The Pasadena-based Parsons Corporation manages the program on behalf of Los Angeles World Airports and administers the Project Labor Agreement.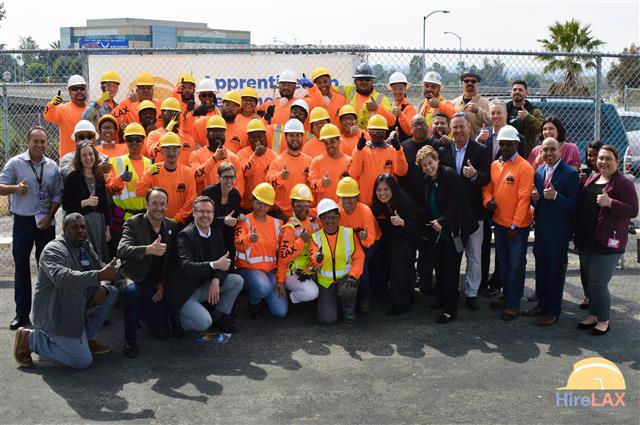 HIRELAX CONSTRUCTION APPRENTICESHIP READINESS PROGRAM GRADUATES FOURTH COHORT; SPEAKERS INCLUDE EXECUTIVE STAFF OF LOS ANGELES WORLD AIRPORTS AND LOS ANGELES SOUTHWEST COLLEGE