History of Los Angeles Southwest College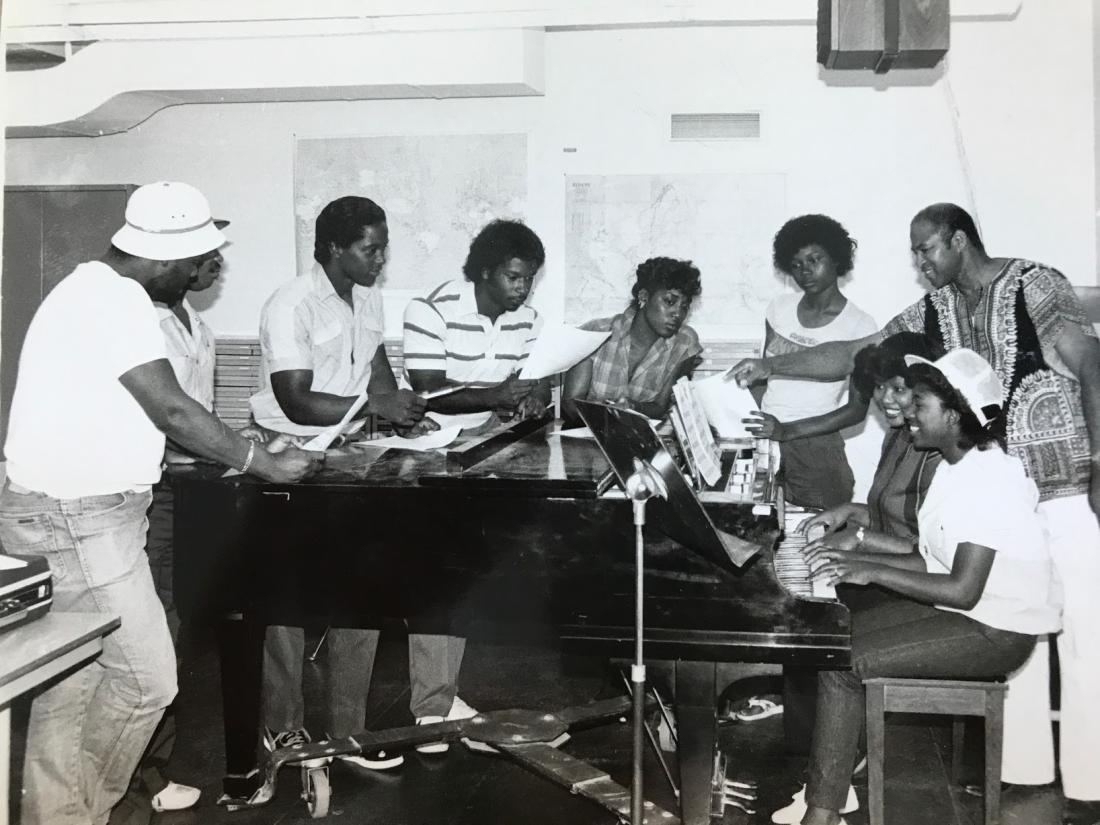 Learn our incredible story!
Los Angeles Southwest College is the product of decades of hard work, vision, and perseverance to achieve the dream of its principal founder, Odessa B. Cox.
The Cox family and a small group of community members started fighting in 1947 to bring a comprehensive community college to South Los Angeles. The path to today was not easy and was the result of the dedication of many.
Today, Los Angeles Southwest College, part of the Los Angeles Community College District, houses state-of-the-art facilities, including its recently renovated Library and Little Theater as well as the brand new School of Career and Technical Education building and School of Science, where students receive top-notch instruction from a dedicated group of educators.
Cox and her husband, Raymond Cox, married in 1941 in Bessemer, Alabama, moved to Los Angeles in 1943, and in 1945 opened Utopia Cleaners in Watts, which remained in business for 48 years. They were staunch believers in education and continuously sought knowledge in formal and informal educational settings. The couple also worked on projects such as to increase the hiring of African-Americans and Mexican-Americans at banks and grocery stores in Watts.
Odessa Cox would eventually join the area's Parent Teachers Association where she pushed for an improved educational experience for local students. Specifically, she worked diligently with others to change the image of African-Americans in state-adopted textbooks.
Cox and supporters also lobbied tirelessly for a college to be located in a neighborhood in South Los Angeles. For years, Cox and other residents of Watts would have to ride a trolley downtown and then catch a bus in order to attend Los Angeles City College. The trip took two hours just one way.
According to the Los Angeles Times, Cox surveyed students in all of the area's high schools and found that many of them would go to college if they could get there on foot or bicycle.
The first steps toward the realization of this dream of having a college in the area were taken in 1950 when Cox and others formed a citizen's group -- The South Central Junior College Committee. The diverse group was influential in getting the Los Angeles Unified School District Board of Education, which oversaw Los Angeles community colleges, to purchase 54 acres of land for $3,500 per acre in 1950 from the Union Oil Company at the corner of Western Avenue and Imperial Highway -- the eventual site of Los Angeles Southwest College. Another 16 acres would be purchased for $14,230 per acre from Union Oil in 1964.
A sign was placed on the site in 1950 announcing the college's expected arrival, but many years would pass before construction would begin.
That day would arrive rather quickly after the "Watts Rebellion." During the unrest from August 11-17, 1965, 34 people died — 23 of whom were killed by police and National Guard. Two law enforcement officers and a fireman were among the dead. More than 1,000 people were injured.
A California commission, under Gov. Pat Brown, later determined that the rebellion was caused by police resentment as well as a lack of jobs and educational opportunities for African-Americans.
Sandra Cox, daughter of Odessa Cox, and others believed the riots caught the attention of the Los Angeles Unified School District.
"If there was no rebellion, there would be no Southwest College," Sandra Cox, who currently serves as a Los Angeles Southwest College Foundation member, told the Los Angeles Times in 2001.
In January 1967, the Board of Education would earmark $2 million to open the college campus at Western and Imperial.
At 3:30 a.m. July 11, 1967, Odessa Cox and her colleagues, including Adele Cannon, Dr. Agnes Moreland Jackson, and Sue Acosta, met at Western and Imperial to watch as the first of 13 bungalows were delivered from Los Angeles City College.
Classes started Sept. 11, 1967 with more than 600 students registered and 22 full-time faculty members, according to media reports. LASC's first president was Dr. John Grasham, and the original curricula revolved around liberal arts and academic transfer.
By 1976, LASC had seen steady growth in its student body as well as faculty, staff, and facilities. The number of students had increased to more than 5,000 and the faculty consisted of more than 100. The 13 original bungalows increased to 31 and construction had started on permanent facilities.
"I didn't do this alone. I might have conceived the idea, but from the beginning to end it took a lot of dedicated souls to bring the physical property you see today from an idea to reality ... and it was a team effort all the way." Odessa Cox told The Sentinel newspaper in 2001. "All the way we bolstered one another's spirit, viewed the setbacks at stepping stones, and moved ahead."
New facilities were eventually developed, including a library, theater, and student services center. They all provided a sense of permanence and symbolism of a new era in higher education in the community.
On Feb. 20, 1987, the college's Building B was renamed the Odessa Cox Building as a result of a campaign spearheaded by Los Angeles Community College District Trustee Marguerite Archie Hudson.
LASC would continue to expand in the years ahead with the construction of the Technical Education Center.
"It feels so good to see the things we have fought for so many years finally coming to pass." Odessa Cox said at the groundbreaking ceremony for the $7 million center in January 1990.
Her comments were met with a standing ovation, according to media reports.
Currently, the LASC campus is undergoing a major transformation with more than $400 million in funds from the Los Angeles Community College District Bond Construction Program. The college's modernization efforts include updating existing buildings with new technology and building new "green" facilities.
Additional projects have included the Thomas G. Lakin Physical Education Center, Student Services Building, Child Development Center, athletic stadium and field house, Maintenance and Operations facility, central plant, Cox Annex and a multi-level parking structure.
The campus is also the site of Middle College High School, part of the Los Angeles Unified School District. Many Middle College High students take college courses at LASC to obtain their Associate's Degree while meeting the requirements for a high school diploma.
Since its opening, LASC has established itself as a key force in the educational, recreational, and cultural development of the region. Several academic and occupational programs have distinguished themselves over the years, including the Nursing and Child Development departments.
Today, LASC's student body has increased to more than 8,000. There are more than 300 faculty, staff, and administrators looking to help students find academic success.
More and more students each year are also taking part in online Distance Education courses, providing a new avenue in which students are receiving an LASC education.
Odessa Cox passed away on October 27, 2001, but even in her later years, she campaigned for the passage of a bond initiative so the campus could be completed.
In recent years, thanks to the passage of voter-approved bond measures, our campus has experienced quite a transformation with beautiful foliage, easy walkways as well as renovated and new buildings. On April 2, 2015, the college celebrated the new School of Career and Technical Education building as well as the renovated, modernized, and upgraded Cox Building, which includes the refurbished Little Theater and Library. In August 2019, the School of Science opened. This $16 million, environmentally friendly, 27,000-square-foot, two-story building was funded by 2008's $3.5 billion Measure J for the modernization, renovation, and new construction of LACCD facilities. Then, in 2019, the college opened its School of Science and is expected to open its Student Union in 2023.
LASC celebrated its 50th year on Saturday, September 30, 2017, at the Millennium Biltmore in Downtown Los Angeles at a sold-out anniversary gala attended by hundreds of the college's supporters, including Congresswoman Maxine Waters and Los Angeles County Supervisor Mark Ridley-Thomas.
At LASC, students continue to be in control of their destiny. The college caters to students' personal and professional needs, providing premier instruction, small class sizes, and customized student support services. From traditional, full-semester offerings to online, evening, weekend, and short-term, eight-week courses, we have classes that will help you to frame your own success. Once a student registers for classes here, they will find support and encouragement all around them.
The vision of Odessa Cox is getting closer to being fully realized.
President's Office
Office Hours and Location
Mondays to Fridays: 8:00AM to 4:30PM
Saturdays to Sundays: Closed
Cox Building, Room 156