Commencement Ceremony
---
2023 Commencement Ceremony  FAQs
Graduation season is here.
All students who have worked so hard to reach Graduation will be able to celebrate their accomplishment in person at 4 p.m. Tuesday, June 6, 2023, at Cougars Stadium.
Mr. Karim Webb, former LASC Foundation Chairperson, Entrepreneurial Activist, and co-founder of PCF
Restaurant Management, a franchisee of Buffalo Wild Wings ("BWW") will be the Commencement Speaker.
Please note the following:
Graduation is the completion of all degree requirements as recorded on an official transcript.
Commencement is the ceremony that celebrates the completion of a degree.
Participation in the Commencement does not imply that you have officially graduated.
This is an incredible time of year, and we can't wait to celebrate our graduates and their achievements.
---
You may RSVP for the 2023 Commencement ceremony using the following link: https://form.jotform.com/231355652944056
---
Click the links below to learn more about this day celebrating YOU and your accomplishments.
Family and Friends
FAQ For Commencement
Participate in Graduation
Petition For Graduation
Photos
Purchase Caps and Gowns
Qualifications and Honor
---
The Los Angeles Community College District and LASC will also be hosting several other events celebrating our graduates and high performers this Spring. They include:
Black Graduation Celebration
Mi Gente Graduation Celebration
Lavender Graduation Celebration
General Information
Conferring of Degrees
Los Angeles Southwest College (LASC) awards the Associate of Arts (A.A.), Associate of Science (A.S.), Associate of Arts for Transfer (A.A.-T.), and Associate of Science for Transfer (A.S.-T.) degrees in selected curricula to indicate the satisfactory completion of 60 or more units of course credits.
LASC's Counseling Office and the Office of Admissions & Records will evaluate all petitions for graduation to determine eligibility for A.A., A.S., A.A.-T as well as A.S-T. degrees.
Students who applied for 2022 summer and fall degrees have been evaluated and awarded, and thus are classified as graduates. Students who applied for a 2023 spring degree will be evaluated once the semester's final grades have been submitted, and thus they are classified as candidates for graduation.
Graduates and candidates for graduation will receive a commemorative diploma cover at the Commencement ceremony to symbolize the conferring of a degree.
Once final grades have been reviewed and applied to transcripts, the Office of Admissions & Records will send a letter to students indicating that their degrees are ready and may be picked up in the Admissions & Records Office at LASC. Your degree information will also be posted on your official Los Angeles Southwest College transcript.
Commencement Honors
Summer 2022 and Fall 2022 graduates are eligible for Commencement Honors. Academic Honors for Spring 2023 graduates will be represented on student transcripts as well as on degrees once final grades are posted.
Los Angeles Southwest College is governed by the National Honors Society to issue Academic Honors at the Commencement ceremony in the following manner:
Summa Cum Laude (With Highest Praise)
Cumulative GPA of 3.9 or higher
Student receives Blue and Gold Honor Cord
Magna Cum Laude (With Great Praise)
Cumulative GPA from 3.7 to 3.89
Student receives Blue Honor Cord
Cum Laude (With Praise)
Cumulative GPA from 3.5 to 3.69
Student receives Gold Honor Cord
Valedictorian and Salutatorian
The valedictorian is the graduate with the highest grade point average in this class.
The salutatorian has the second-highest grade point average.
Final grades through the Fall 2020 term are used to determine the grade point average.
Petition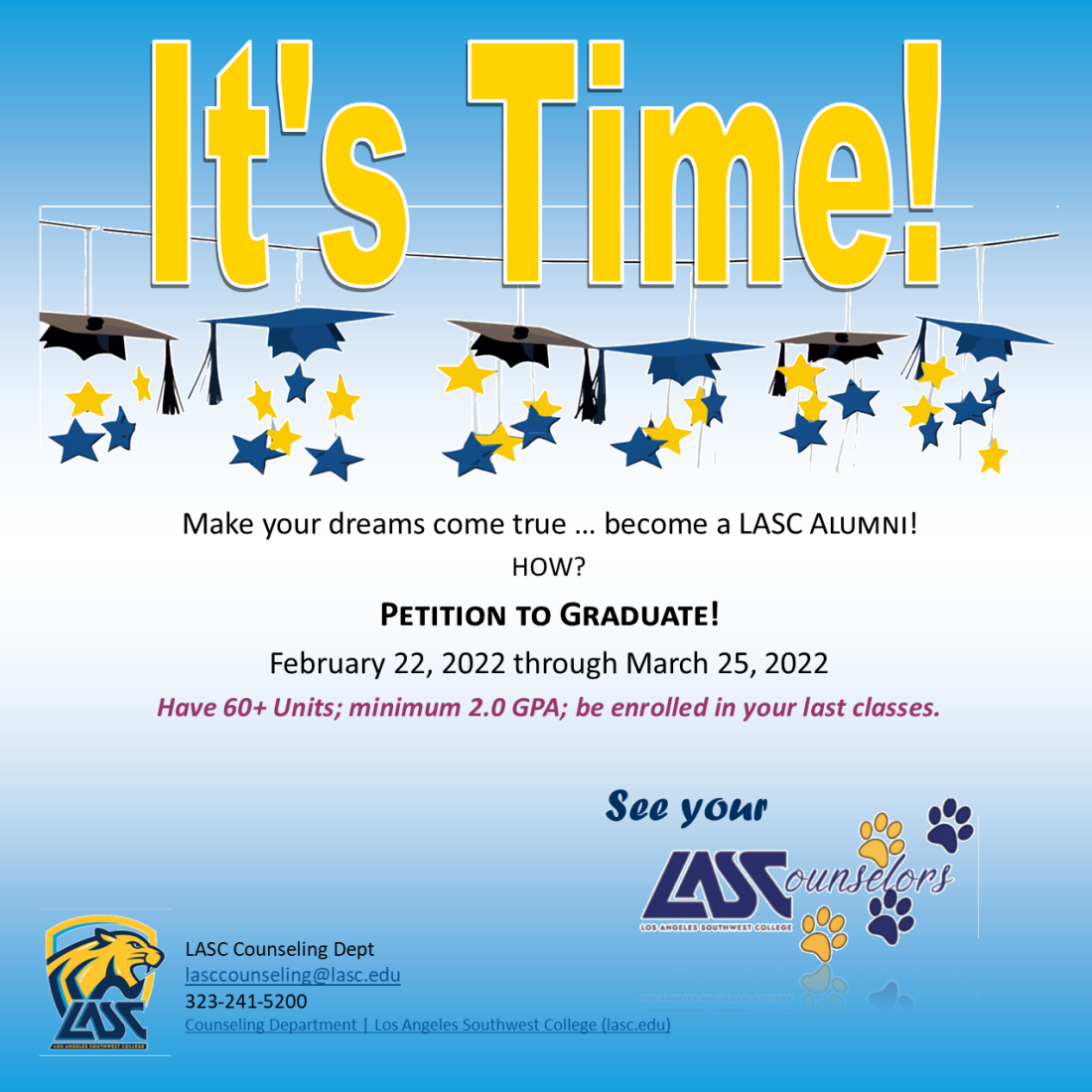 All students who believe they have met degree requirements must complete a graduation petition in order to receive their degree. All coursework must be completed or in progress to be completed at the time of filing. The first day to file a graduation petition follows the last day to add a class.
Coursework completed at institutions outside the Los Angeles Community College District (LACCD) must be documented with an official transcript filed in LASC's Office of Admissions and Records.
The college's spring petition process for degrees, certificates, and transfers will be from February 21 to April 15. Stop by the Counseling Office in Student Services Building, Room 227, or call 323-241-5200 if you have questions or visit them on Cranium Cafe.
If you wanted to petition to graduate the best practice is to meet with a counselor online, make an appointment on Cranium Cafe.
A short path to the Cranium Cafe is this: The most direct path to meet with a Counselor online is at lasc.edu/services/counseling
Select the button Click Here For Live Chat at the top of the page,
Agree to the Informed Consent (first time)
Log in using your student portal credentials(blue icon)
Select a reason for your visit,
A Counselor will join you in the lobby.
Participation
How do I find out if I am eligible to participate?
If you petitioned for graduation by your college's graduation deadline, you are eligible to participate in the Ceremony. You will receive an email no later than the end of May 2023 with more information on how to participate.
Commencement Rehearsal
All graduation participants MUST attend a Commencement Rehearsal to become familiar with procedures and etiquette for the ceremony.
Commencement Rehearsal dates are:
• Wednesday, May 31, 2023, 5:00 p.m. Student Services Building Lobby
• Friday, June 2, 2023, 1:00 p.m. Student Services Building Lobby
IMPORTANT: All graduates and candidates for graduation must attend one of the rehearsal sessions to be eligible for participation in the Commencement Ceremony.
Will a program be printed?
Los Angeles Southwest College will have a printed program at the Commencement Ceremony.
Will my name be announced?
Yes, if you petitioned to graduate in time, your name will be announced.
If I could not meet the graduation petition deadline, can I still participate?
Unfortunately, if you did not make the graduation petition deadline set by LASC, you will not be recognized at Commencement this year.
What do I do if I show up late?
If you begin viewing the ceremony late, you may miss speakers or your name being called. However, you will be walked to your seat and able to watch the ceremony from the field.
How and when do I get my diploma?
Once your final grades are posted and the Registrar's Office confirms that you have met the requirements of graduation, you will be mailed your diploma to your home address. Please make sure that you update your mailing address in the SIS portal.
Will there be ASL interpreter available?
Yes, interpreters will be provided during the Ceremony.
Caps and Gowns
What is the dress code?
Your cap and gown and formal wear.
Do I need a cap/gown to participate?
Yes, you need a cap and gown to participate.
How do I get my cap and gown?
If you would like to purchase a cap and gown, you can do so through our
campus bookstore or by visiting them https://www.lascbookstore.com
Do I need to return my cap and gown?
No, if you purchase a cap and gown, it is yours to keep.
Will I still be receiving my cords and sashes?
Yes.
Family and Friends
---
What is the best way for family and friends to view the ceremony?
Friends and family can view the ceremony from the stands at Cougars Stadium.
Is there a limit of guests I can invite?
There is no limit to how many guests you can invite to view the ceremony.
Photography
---
How do I purchase my graduation photos?
Trycityy Productions will be providing access for you to purchase your graduation photos. We hope these professionally captured moments will serve as cherished memories of your special day.
You can now purchase your professionally captured graduation photos from your big day. Cherish your accomplishment. You did it! Your photos can be purchased directly from Trycityy Productions. If you have any questions or concerns, please reach out directly to Trycityy Productions at (323) 840-9789.
Graduation Photos
We will also have a candid photographer at the event. More details will be provided on how to purchase those images. 
FAQ
Please see the Los Angeles County Department of Health Commencement Ceremonies FAQ for recommendations that outline COVID-19 prevention strategies to protect students, staff and attendees from COVID-19 during commencement.
Other pertinent information and resources can be found on the Los Angeles County Department of Public Health website at http://publichealth.lacounty.gov/media/Coronavirus/
Gates to Cougar Stadium will open at 2 p.m. for your family and friends.
Yes, there will be free parking.
Yes. If you and/or a guest is handicapped, plan to park on the bottom floor of Parking Lot 4 to have the closest access to the football field. Parking Lot 4 is the garage right off of the Western Avenue entrance to LASC.
No, you may only graduate from your home college.
You can ONLY be recognized in the ceremony of your home college where you are awarded your degree.
We encourage you to participate in this celebration and graduation ceremony. However, if you are unable to participate, you will still receive your degree in the mail if you meet the requirements for graduation.
You can contact your campus Commencement representative listed below:
Jamail Carter, carterjd2@lasc.edu
By participating in Commencement, you are consenting for your image to be used in college promotional materials.
The Los Angeles Community College District's Lavender Graduation Celebration is May 25, 2023 at 4:00 p.m. Celebrating our Lesbian, Gay, Bisexual, Transgender, Queer, Intersex, and Asexual (LGBTQIA+) student graduates.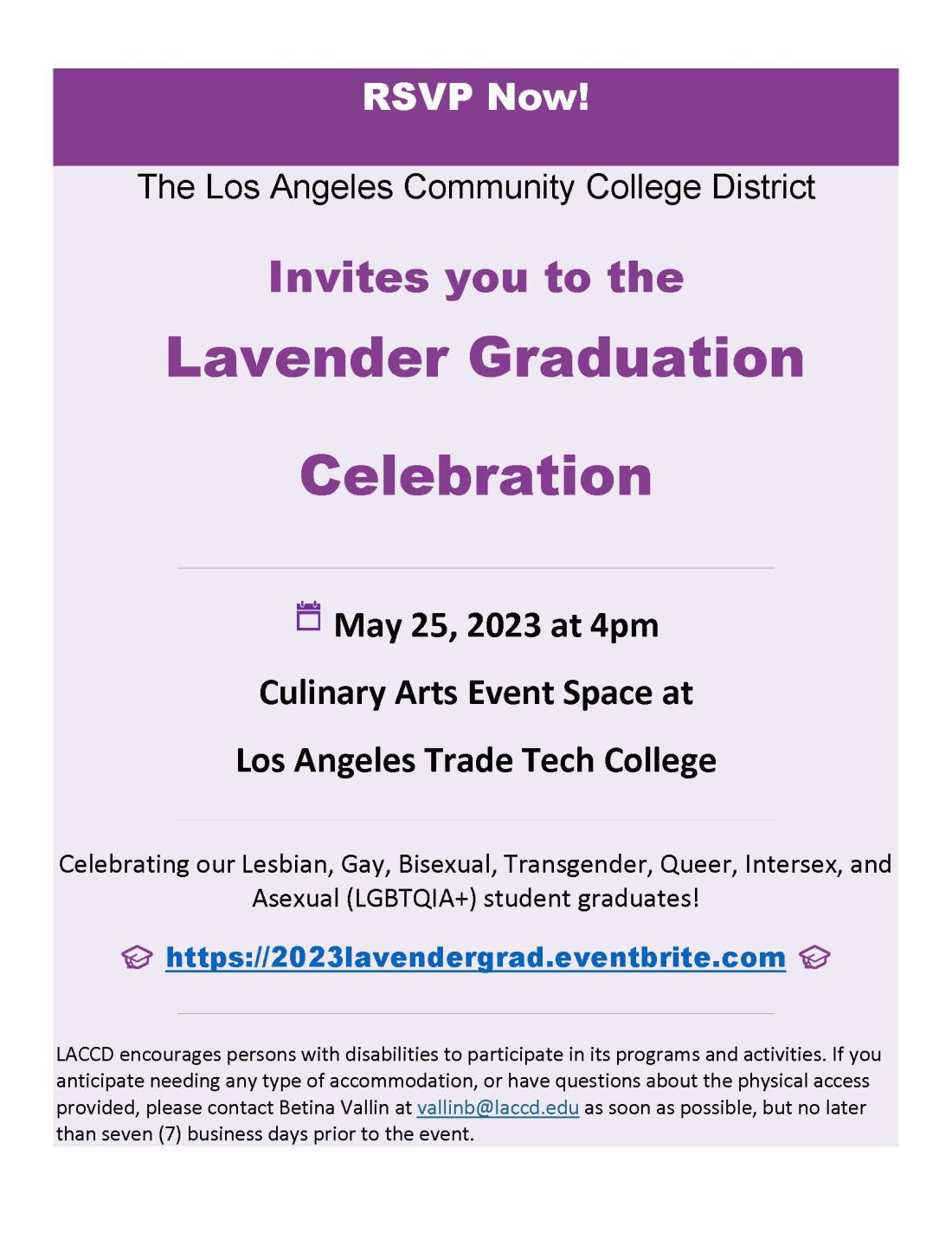 It's that time of year again! The Los Angeles Community College District African American Outreach Initiative program (LACCD-AAOI) is proud to announce its 13th annual Black Graduation Celebration on June 1, 2023. The BGC is a culturally affirming celebration of academic achievement. This year's event will be in-person following the latest Covid-19 state and local guidelines. To participate in this year's graduation, please complete the Pre-Registration Form at this sign-up link.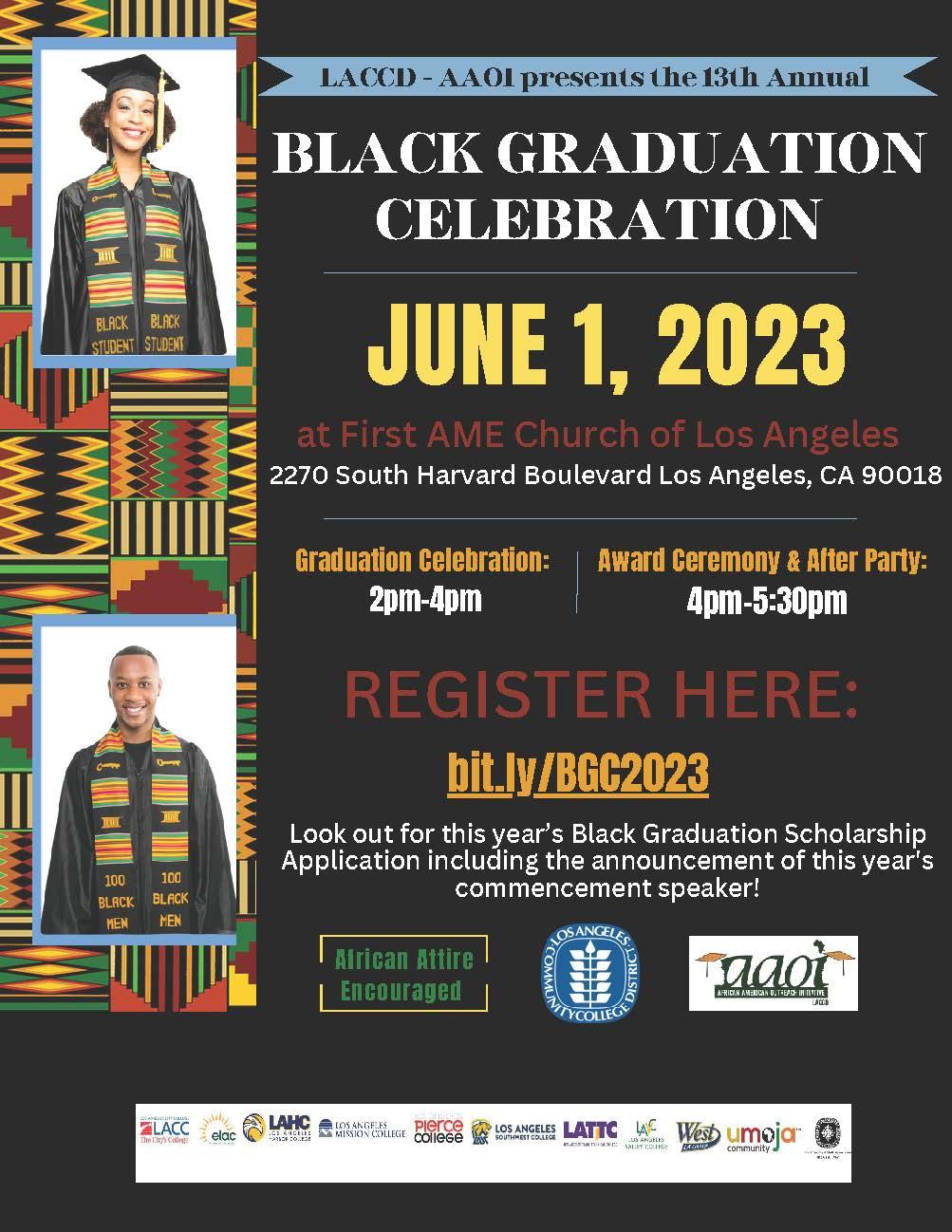 Save the Date!
The Los Angeles Community College District proudly hosts the 2nd Annual Mi Gente Graduation Celebration:
June 3rd, 2023

10:00 a.m.

LA Trade-Tech College
Join us for the 2nd Annual Mi Gente Graduation Celebration bringing together Latino students and their families from all nine college campuses to celebrate our students' educational achievement in a cultural celebration that reflects our Latino diversity, music, language, and nationalities. 
To RSVP, please visit the RSVP form.
For more information, please visit the event details page.
LACCD encourages persons with disabilities to participate in its programs and activities. If you anticipate needing any type of accommodation, or have questions about the physical access provided, please contact Ben Gillman at MiGente@laccd.edu as soon as possible, but no later than fourteen (14) business days prior to the event.
Office of Student Services
Office Hours and Location
Mondays to Fridays: 8:00AM – 4:30PM
Saturdays to Sundays: Closed
Student Services Building, Room 209