Theater Arts (AAT)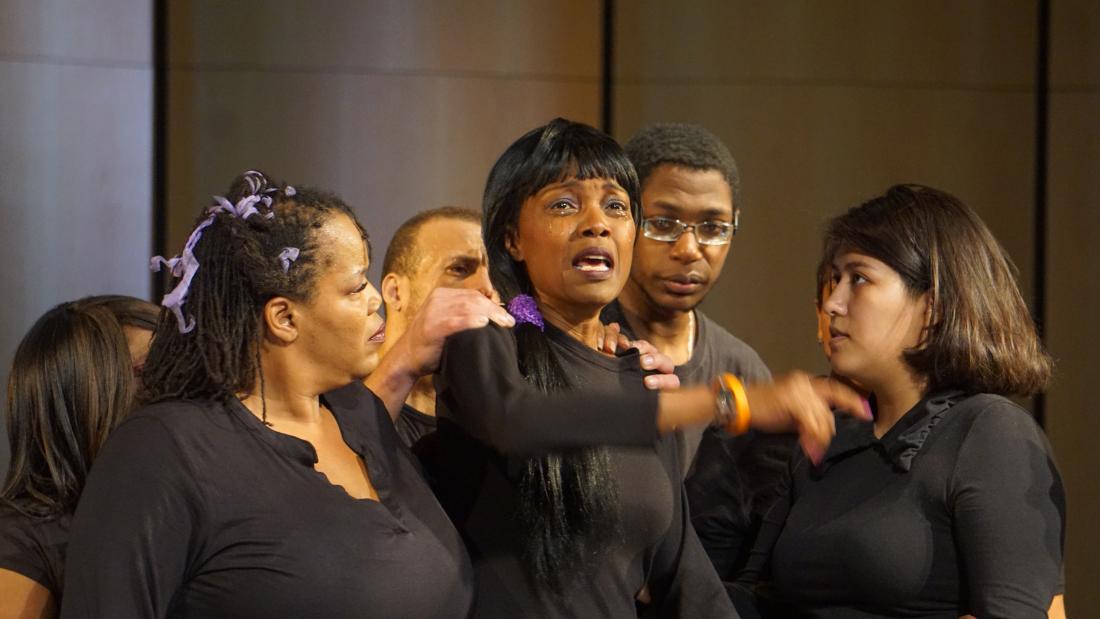 Raise the Curtain on Your Career
Take the stage and show off your acting skills in front of a packed house for a live rendition of a Broadway musical. Work behind the scenes to direct singing and dancing with your town's local production company. Bring a production to life designing costumes for the newest show in Hollywood. Spend your time teaching acting methods, techniques, and styles to eager high school students as an in-demand drama teacher. From in front of the curtain, to technical roles in lighting and sound and working in wardrobe and makeup, you'll find you niche in the theater.
With local and Broadway hits continually capturing the audience's attention, theater arts is a flourishing business. In LASC's Theater Arts program, you will express your vision of the world through playwriting and performance. Experience in the performing arts builds confidence and creative problem-solving skills. It teaches you to work individually and collaboratively under pressure as you prepare to explore careers in this dynamic job market. This career path is constantly evolving with social changes and technological advancements and requires adaptability and creativity.
Careers in Theater Arts
Traditionally, it may seem that a degree in theater arts would lead directly to an acting career. Yet, earning your degree in Theater Arts can open the door to wide variety range of careers, both on and off stage.
Here are some careers and their salaries you could have with a Theater Arts degree:
Career information below taken from bls.gov February 2020. Go to bls.gov for most current career information.
Express ideas and portray characters in theater, film, television, and other performing arts media.
National data
| | | |
| --- | --- | --- |
| Typical Education Level: | Salary: | Hourly Median Wage: |
| High school diploma or equivalent | $36,480/year | $17.54/hour |
| Work Experience in a Related Occupation: | Job Outlook 2018-2028: | Number of Jobs 2018: |
| None needed | 1% increase (little or no change) | 64,500 |
Create motion pictures, television shows, live theater, commercials, and other performing arts productions.
Data for Los Angeles/Long Beach/Anaheim
| | | |
| --- | --- | --- |
| Typical Education Level: | Salary: | Hourly Median Wage: |
| Bachelor's Degree | $122,310/year | $58.81/hour |
| Work Experience in a Related Occupation: | Job Outlook 2018-2028: | Number of Jobs 2018: |
| Less than 5 years | 18% increase (much faster than average) | 18,610 |
Is the liaison between actors on the stage and the behind the scenes crews. Schedule and run rehearsals, communicate the directors wishes to designers, and coordinator the work of the stage crew.
National data
| | | |
| --- | --- | --- |
| Typical Education Level: | Salary: | Hourly Median Wage: |
| Bachelor's Degree | $41,300/year | $19.86/hour |
| Work Experience in a Related Occupation: | Job Outlook 2018-2028: | Number of Jobs 2018: |
| Less than 5 years | 5% increase (as fast as average) | N/A |
Select, fit, and take care of costumes for cast members, and aid entertainers.
Data for Los Angeles/Long Beach/Anaheim
| | | |
| --- | --- | --- |
| Typical Education Level: | Salary: | Hourly Median Wage: |
| Bachelor's Degree | $51,230/year | $24.63/hour |
| Work Experience in a Related Occupation: | Job Outlook 2018-2028: | Number of Jobs 2018: |
| Less than 5 years | 20% increase (much faster than average) | 830 |
Teach students in one or more subjects, such as English, mathematics, or social studies at the secondary level in public or private schools. May be designated according to subject matter specialty.
Data for High School Teachers in all subjects for Los Angeles/Long Beach/Anaheim
| | | |
| --- | --- | --- |
| Typical Education Level: | Salary: | Hourly Median Wage: |
| Bachelor's Degree | $83,610/year | N/A |
| Work Experience in a Related Occupation: | Job Outlook 2018-2028: | Number of Jobs 2018: |
| None needed | 5% increase (much faster than average) | 41,490 |
Apply makeup to performers to reflect period, setting, and situation of their role.
Data for Los Angeles/Long Beach/Anaheim
| | | |
| --- | --- | --- |
| Typical Education Level: | Salary: | Hourly Median Wage: |
| Some college | $81,110/year | $38.99/hour |
| Work Experience in a Related Occupation: | Job Outlook 2018-2028: | Number of Jobs 2018: |
| None needed | 43% increase (much faster than average) | 1,450 |
What You'll Learn at LASC in Theater Arts
You can get Associate in Arts for Transfer (AAT) degree through LASC's Theater Arts program where you will hone your acting, technical theater skills and academic knowledge, and establish connections to launch your career in the theater world:
Develop your writing skills creating a one act play while developing a well-rounded background in acting, design, stage management, theater history, and production.
Gain invaluable experience in performing and preparing productions at LASC's state-of-the-art theater, where you'll collaborate with peers and join a community who are passionate about theater.
Bring a production to life by using the advanced technical functions involved with lighting, sound, and props and keep the back of the house organized and on schedule.
LASC provides internships so you can build your career connections and create community ties for after you graduate.
Want to transfer? Get an Associate in Arts for Transfer (AAT) degree in Theater Arts and save money on your first two years of college learning from dedicated faculty who are committed to the performing arts. Once you graduate, you'll have guaranteed admission into a CSU! See your academic counselor for details.
Degrees & Courses You Will Take
Review LASC 's Associate in Arts in Theater Arts for Transfer (AAT) degree below, along with our suggested course of study for these programs. Go to LASC's current Course Catalog for specific course information:
Major Code: 1007.00
Total Units Required: 60
If you are planning to transfer to a CSU or UC, then an Associate in Arts in Theater Arts is for you! You can complete an Associate in Arts in for Transfer Degree (ATT) in Theater Arts if you are planning to transfer to a CSU Theater bachelor's program, and by successfully completing this degree, you are guaranteed admission to a CSU upon completion of this program!
The Transfer Degree is designed to provide you with a Transfer Model Curriculum focusing on general education and preparing you for transfer to CSU with a foundation for all Theater Arts courses.
The Associate in Arts in Theater Arts for Transfer Degree requirements include:
completion of 60 CSU transferable units, including the minimum 18 units in the major and the completion of either IGETC or CSU GE;
a minimum GPA of 2.0.
If you are interested in completing an Associate Degree for Transfer, you must:
Complete 60 semester units of 90-quarter units that are eligible for transfer to the California State University, including both of the following: *

The Intersegmental General Education Transfer curriculum (IGETC) or the California State University General Education-Breadth Requirements
A minimum of 18 semester units or 27 quarter units in a major or area of emphasis, as determined by the community college district. 2. Obtainment of a minimum grade point average of 2.0.
*As required by Senate Bill 1440 & California Education Code section 66746.

ADTs also require that you must earn a C or better in all courses required for the major area of emphasis. A "P" (Pass) grade is not an acceptable grade for courses in the major.
You should meet with a counselor to determine the necessary course work to complete the general education requirements.
Required Courses:
Units
THEATER 100 Introduction to the Theater
3
OR
THEATER 110 History of the World Theater
3
THEATER 270 Beginning Acting
3
THEATER 291 Rehearsals and Performances
3
OR
THEATER 342 Technical Stage Production Lab
3
Select Three Courses
THEATER 114 Script Analysis for Performance, Production and Appreciation
3
THEATER 271 Intermediate Acting
3
THEATER 310 Introduction to Theatrical Lighting
3
THEATER 315 Introduction to Theatrical Scenic Design
3
THEATER 405 Costume Design
3
TOTAL UNITS
18
Honor
KENNEDY CENTER INFO:
Karrington Jackson has been chosen to join the award-winning Los Angeles Southwest College Experimental Theatre Lab for their featured presentation at the Kennedy Center American College Theatre Festival. Recently, the LASC Experimental Theatre Laboratory created a new original project entitled "Criminal" which details the historic and horrific murder of 14-year-old Emmett Till in Mississippi in 1955. But the play explores much more than that – it delves into deeper themes of racism in American and the history of lynching black men. It creates parallels to modern-day mass incarceration and uses voice, music, and movement to weave a spell over its audience. The experimental play was created, written, directed, and produced by the students in the theatre lab at LASC. Professor Evans has dedicated a spot on the award-winning team for an Amazing Grace Conservatory student ready to take the next step towards college acting and performance. After the alliance between AGC and LASC, Professor Evans decided that each year, a spot will be offered to one or two selected students from the AGC to attend the festival with the college team. College credit will also be given for the work on the show and the festival trip.
Here is a quote from the KC/ACTF Judge concerning the work of the LASC Experimental Theatre Lab:
"Powerful storytelling which must be heard, immersive experience which will not allow you to be a passive audience member, chronicles the black experience- from the perspective of both genders-male/frightened of what will happen to them from day to day, female/mothers fearing for the son they have and for the son they will have. Amazing piece, powerful and heartbreaking, yet has a hope, with communication and really seeing each other as human beings, all things are possible. Such a beautiful cast!"
Karrington will join the LASC team for the entire trip to The Kennedy Center American College Theatre Region 8 Festival which takes place Feb 11-15 and is a prestigious festival attended by most college and university departments. Region VIII of the Kennedy Center American College Theatre Festival is comprised of colleges and universities in Arizona, Central and Southern California, Hawaii, Nevada, Utah, and Guam.
Each year the KCACTF Region VIII Festival brings students and faculty together in mid-February to see one another's work and to share ideas. In addition to performances, there is a wide range of activities that in the past have included workshops and seminars on such topics as playwriting, auditioning, voice, movement, stage combat, theater for children, scene painting, scenery construction, and so on. There are sessions for beginning theater artists and experienced faculty member.
Students, faculty, and staff who bring productions to regional festivals are encouraged to attend the entire festival. All festival participants are urged to attend productions brought by their peers, participate as audience or auditioners in the Irene Ryan Acting Scholarship program, and to avail themselves of the full range of workshops, symposia, and exhibits that are part of each regional festival.
Karrington will be participating in multiple programs while attending the week-long festival. Two examples are the Musical Theatre Initiative and the Next Step Auditions – both are geared towards the professional musical theatre performer. Within the Musical Theatre Initiative, students take part in musical theatre workshops and audition workshops taught by professionals and professors from musical theatre programs. Students also audition for limited slots in a cabaret show, which is assembled and rehearsed within three days and presented to the public. And there is a cash prize which will be given to the winners of the MTI Initiative. The Next Step audition is an audition for attending college programs and professional summer stock theatre companies. Students audition for entrance into college programs, and they audition for jobs in summer stock theatre. Some of the past colleges who have attended: University of California Irvine, Chapman University, Stella Adler Conservatory, American Academy of Dramatic Arts, and University of Southern California (not all these colleges attend every year.) Karrington and all the LASC students will be partaking of numerous workshops as well, which in the past, have included exciting workshops in: Dance, Voice, Clowning, Acting, Masks, Improvisation, Commedia Del Arte, etc…
This enrichment opportunity allows the college student to see beyond just her/his department or community and into the larger world of professional theatre. The festival is meant to allow fellowship and exposure to new ideas and new ways of viewing theatre.
The goal of the festival is to provide college and professional contacts to the student, to enhance the learning at one's college or university, and to learn by sharing a diverse range of theatre works from across the region of colleges. Professor Evans is excited to further explore the partnership between AGC and LASC by inviting Karrington to be the first AGC student to receive this fellowship opportunity and work alongside the LASC Experimental Theatre Lab Members.
For more info on the Regional Festival and the Kennedy Center for the Performing Arts, go to:
Meet Your Professor
Jonathan Pope Evans began his career singing and dancing in professional theatre, most notably on tours of Will Roger's Follies, Crazy For You, and Joseph and the Amazing Technicolor Dreamcoat. He performed standup and improvisational comedy in Chicago, Illinois. Then, at age 24, he decided to make his way to California -- earning his MFA in Theatre and Film Directing at California Institute of the Arts. He then worked as director's assistant to acclaimed filmmakers Nina Menkes and Nicole Holofcener, and he began directing/producing theatre, commercials, indie films, and television promos.
His short film Sepulte "The Buried" won numerous awards, and his most recent film, "Hoover Road", opened at the Rhode Island International Film Festival (an Oscar qualifying festival). Evans' films have shown at Cannes Film Festival, Nashville Film Festival, Brazil's Curta Cinema Festival, New Orleans Film Festival, and other film festivals across the world. He has also won awards in playwriting, screenwriting, and most recently, he was chosen as a semi-finalist (with his amazing writing partner Rachel Goldberg) in the prestigious Nicholl Fellowship for screenwriting (sponsored by the Academy of Motion Picture Arts and Sciences).
He taught at American Musical and Dramatic Academy, American Academy of Dramatic Arts, and Chapman University before finding his home at Los Angeles Southwest College as Assistant Professor of Theatre (Go Cougars!). He has also trained for two summers in Poland in the theatre work of Jerzy Grotowski- earning him an advanced certificate in Physical Theatre. He currently finds excitement from raising his daughter and mentoring the LASC Experimental Theatre Laboratory, where members create social justice theatre in south central Los Angeles and often tour across the state.
Get Ready Before You Start
Interested in a career in theater? Before your first class at LASC, you can start preparing for your career:
Make an appointment with your LASC academic counselor to review LASC's program, start to develop a Student Education Plan (SEP), and find out what opportunities and support services would best match your academic and career goals.
Still in high school? See if your school has a drama club or puts on theater productions so you can gain hands-on theatrical experience. Enroll in public speaking classes to prepare you to perform in front of crowds. Seek out theaters in your area to audition for various roles. Take English and writing classes to learn to read and understand plays to add to your portfolio.
Program Learning Outcomes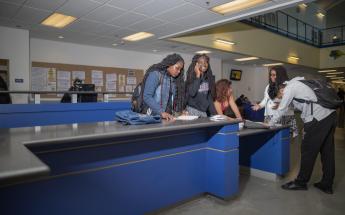 As a student, once you successfully complete the program, you should be able to:
Examine and analyze key components of a professional stage production, including all related performance, script, design, and technical considerations.
Identify and examine key theories, concepts, and historical practices of theatre - both past and present.
Analyze and apply the fundamental elements of the play structure and play analysis.
Develop and demonstrate intra- and inter-personal communication skills and theatrical best practices from involvement in creative, collaborative, and professional level theatrical productions.
Theater Program
Office Hours and Location
Mondays to Fridays: 8:30AM - 4:30PM
Saturdays to Sundays: Closed
TEC Building, Room 195