Celebrating the Life of a Fellow Cougar
October 7, 2022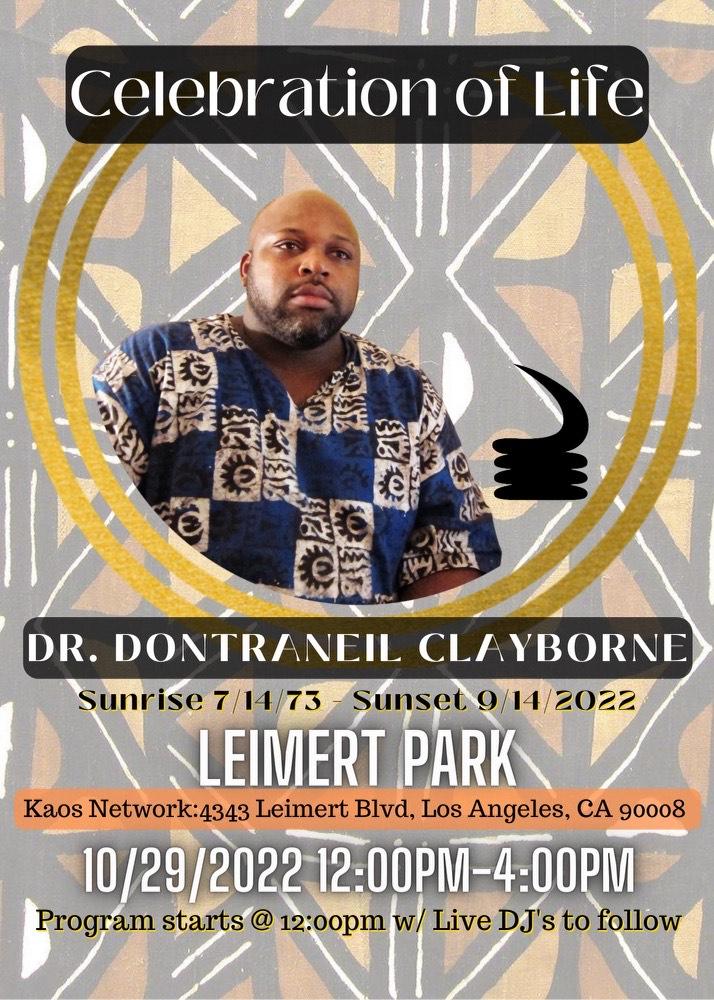 The entire Los Angeles Southwest College (LASC) community is invited to attend the celebration of life service for long-time history instructor Dr. Dontraneil Clayborne whose legacy will not soon be forgotten at the college.
The celebration of life will be from noon to 4 p.m. Saturday, October 29, 2022, at the KAOS Network, 4343 Leimert Blvd., in Los Angeles, 90008.
Dr. Clayborne, who passed away on Wednesday, Sept. 14, was beloved in LASC's Behavioral and Social Sciences Department as well as throughout the campus as he was actively involved in many of its activities. He taught at LASC for 10 years, starting in Fall 2012.
"His service and commitment to the vision and mission of LASC will be forever a part of his legacy as will his dedication to his students," LASC President Dr. Anthony Culpepper said.
Born and raised in South Central Los Angeles, Dr. Clayborne received a double major in Third World Studies and History at the University of California, San Diego. While at UC San Diego in the early 1990s, he resided in Ghana as an exchange student. He received a Master of Arts in History from Howard University in 1998.
Dr. Clayborne returned to Los Angeles and began his doctoral studies in Urban Planning at UCLA, where he received his Doctor of Philosophy in 2012. He had resided in Ghana to complete research for his dissertation focused on international transportation titled "Owner-Drivers in the Tro-Tro Industry: A Look at Jitney Service Provision in Accra, Ghana." He was a member of the university's Black Alumni Association and co-founder of 4real Hop at UCLA, an educationally focused after-school program.
Dr. Clayborne founded Afrispora and its affiliated website and was a community organizer involved in a wide range of socio-cultural and politico-economic issues. He was an American Federation of Labor and Congress of Industrial Organizations activist and a founding member of the Leimert Park Art Walk. He was also the Founder and President of Afrispora & Afrispora Academy, which was focused on educational conceptualization and consulting emphasizing the intersections between academics, arts, and athletics, which he coined as the "Triple A Approach"
Dr. Clayborne taught a wide range of courses at Santa Monica College including African History, U.S. History, World History, and African American History. He was a valued member of their campus since 2003. He also taught at Coppin State University in Baltimore, California State Dominguez Hills in Carson, Concordia University in Irvine and Los Angeles City College.
Dr. Clayborne was very connected to the community, the youth, and the academic community," LASC Academic Affairs Vice President Dr. Lawrence Bradford said. "He will truly be missed."
A loving and devoted father, son, brother, uncle, cousin, partner, and friend, Dr. Clayborne's family includes his mother, Rosslynn; father, Lester; stepmother, Vera; stepfather, Thaddeus; brothers, Traveon and Leon; nephew, Boston; nieces, London, Lailah, Lyndi, and Liana; sister-in-laws, Monique and Delilah; as well as a host of cousins and other relatives. His longtime partner Maria and their daughter Sanaa will especially miss him.
Please upload any pictures or videos you may of Dr. Clayborne to Dropbox. You can also upload a sound bite or video to send him positive vibrations.
If you need grief counseling, utilize the Los Angeles Community College District's Employee Assistance Program by calling 24/7 at (800) 327-0449.
If you have additional questions, comments or concerns, email Maria819915@gmail.com.