Welcome To TRiO STEM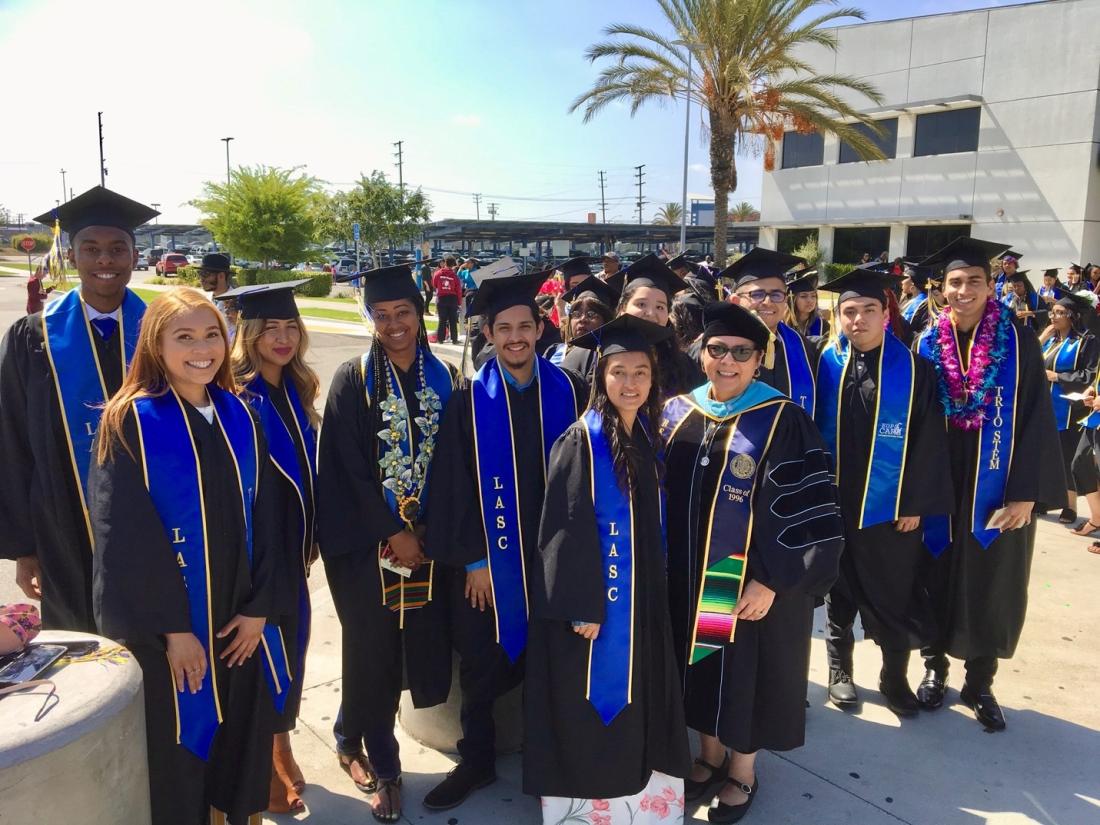 Welcome To The TRiO STEM Program!
The TRIO Student Support Services STEM (Science, Technology, Engineering, Math) Program has been on the Los Angeles Southwest College (LASC) campus for over 10 years. TRIO STEM is funded by the U.S. Department of Education and is designed to assist students overcome, class, social & cultural barriers to higher education & provide services for students wishing to enter the STEM or Allied Health fields.
Its primary focus is to increase the retention, and persistence of first-generation and low-income participants to completing a certificate or AA/AS degree, graduating and transferring to a college or a university.
TRIO STEM Counselors offer personal support, and individualized counseling along with wrap around services that include comprehensive academic support through the transfer process and exploring career options. In addition, Tutors and Mentors work with participants to help them successfully complete their coursework and learn how to navigate and prepare for transferring to a 4-year college or university.
LASC's TRIO STEM program also offers activities and assistance that include (but are not limited to) workshops on the transfer process, application assistance, financial literacy and financing your education, dealing with math anxiety, preparing for life after transfer, etc.
Finally, we offer cultural enrichment activities (trips to museums and performances) as well as campus tours to local public and private four-year schools each semester.
Here just some of our benefits and services:
Counselors who specialize in advising students enrolled in STEM & Allied Health fields
Comprehensive Student Education Plans (SEPs) created specifically for STEM majors to complete their academic goal
Supplemental Instruction in Math & Science courses to ensure you succeed, including extra academic support in math, science, & writing
College transfer assistance, including workshops on completing applications
Information on managing your finances and

Reviewing financial aid award letters
Financial literacy workshops

Personalized mentoring and tutoring from current or former STEM participants
Campus tours to local four-year public and private colleges & universities
Including meetings with Admissions Counselor Representatives
University and College Fairs
Math, science, and nursing textbooks for reference (office use only)
Computer lab for TRIO participants
TRIO Student Support Services (SSS) programs are funded by the U.S. Department of Education and are designed to assist students overcome, class, social and cultural barriers to higher education.
TRIO STEM Resources
Minimum Academic Requirements
Have the interest to go into a STEM or affiliated Health major
Be enrolled in 9 or more units per semester
Have a cumulative GPA of 2.5 or higher
Have NOT completed an associate or bachelor's degree
Be enrolled in Math 125/Math 125S or higher
Student Eligibility Criteria:
Be a United States citizen or Permanent Resident
Be at least one of the following:

First-generation college student (first in your family to go to college)
Receive Financial Aid for the current academic year (i.e. California Promise Grant, Pell Grant, EOPS Grant, Federal Loans, Federal Work-Study)
Have a verified physical or mental impairment & be a participant of LASC's DisAbility Student Programs & Services (DSPS)
As an LASC TRIO STEM participant, you will need to:
Meet with your STEM Counselor at least twice per semester
Meet with the STEM Tutor/Mentor to assess tutoring needs
Attend at least one Academic Success workshop (financial literacy, writing your personal statement, math anxiety), attend a campus tour, or a campus event each semester (these are optional, but highly recommended)
Make an appointment with a STEM Counselor
PLEASE NOTE: Due to the current Covid-19 closure of the LASC campus, please email the Director and Counselor, Dr. Angelita Salas directly at salasaf@lasc.edu with any questions or make an appointment on-line at: https://laccd.craniumcafe.com/angelitasalas
Please call (323) 241-5392 to make an appointment or drop-in to the office during regular Office Hours to schedule an appointment. During the appointment you will:
Review with the Counselor your intended major choice, and discuss your academic, personal, and career goals
Go through your transfer options and identify 3-4 colleges or universities
Complete your comprehensive Student Education Plan (SEP) including all pre-requisites and general education requirements
Complete your application for the STEM program
TRANSFER PREPERATION
When you are ready to Transfer, TRIO STEM can assist you with completing your applications.
First, get help with research and transferring from the TRIO STEM Program or from LASC's Transfer Center
FINANCIAL AID
Apply for Financial Aid
After students meet with the TRIO STEM Counselors, they will:
Be able to identify two to three four-year colleges and/or universities that offer their major of choice.
Have a thorough understanding of the prerequisite preparation required for STEM majors.
Have a comprehensive educational plan completed for their intended major.
Currently enrolled STEM students who are on the transfer track to four-year colleges and universities will complete their transfer applications prior to the stated deadline(s).
TRiO STEM
Office Hours and Location:
Office Hours and Online Office Hours
Mondays to Thursdays: 8:00AM - 5:00PM
Saturdays to Sundays: Closed
Student Services Building, Room 229