TRiO Educational Talent Search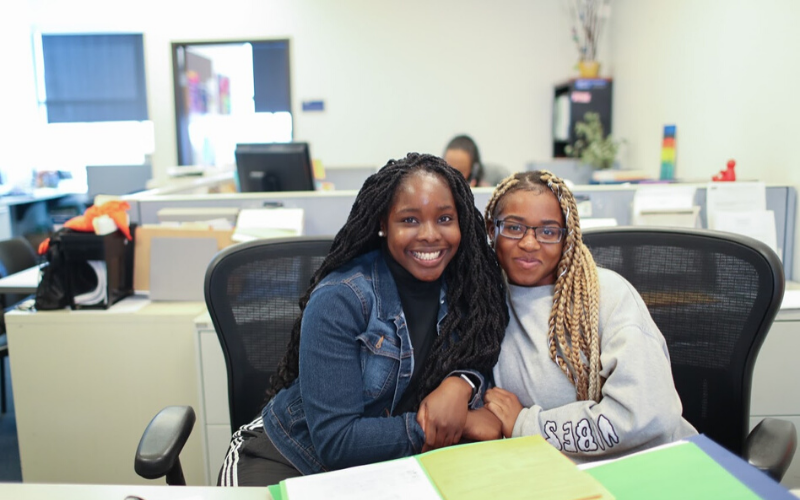 Welcome To Educational Talent Search!
It is truly a pleasure to welcome you to the Los Angeles Southwest College's Educational Talent Search (ETS) program webpage.
If you are a middle school or high school student who wants to go to college after you graduate high school, LASC's Educational Talent Search (ETS) program can help make your transition from high school to college smooth and successful! Our purpose is to provide students who are low-income and/or potential first-generation college students, or students who want to re-enter and complete high school, academic and educational programs and services that will allow them to better understand and pursue their educational options and opportunities and to be competitive in their quest for post-secondary education and beyond.
Also, take time to meet with an advisor or program manager. Schedule an Appointment here.
Each year, colleges across the globe consider more excellent applicants for freshmen admission than they can possibly admit. Most admission review processes single out from a large and growing pool of academically strong applicants those unique individuals who have demonstrated intellectual curiosity, tenacity, and commitment to community service.
These select applicants are the ones who would contribute the most to a dynamic learning environment; they are also the applicants who would make the most of being immersed in such an environment. Although high school grade point average and standardized test scores are important indicators of academic achievement used in most admission review processes, they only tell part of the story. Talent Search has a charge to ensure most participants: complete each grade level, graduate high school, complete rigorous coursework, enroll in a post-secondary educational program, and successfully complete their program within a specified amount of years.
Our country's future depends heavily on this important charge. So, Talent Search encourages student, parent, and guardian participation to ensure student success while providing stimulating learning environments that best prepare leaders-in-the-making for challenges and opportunities.
We expect that your experience in the Talent Search program will be rewarding, interesting, and one that you will remember for years to come.
Interested?
Services
All of our services are free to those who are eligible to enroll in Talent Search (ETS):
Academic Counseling & Planning that prepare you to transfer to two- and four-year colleges & universities
Homework Club where you can learn tips and inside information that help you get ahead in your classes
College Campus Tours to community colleges and four-year colleges and universities so you can find out what these colleges have to offer you and your future
Mentoring & Career Exploration to help you discover what career paths fit with your likes, dislikes, personality, interests, and skills
Academic & Personal Development Workshops to further develop your understanding of who you are and what majors and career paths best suit you
Financial Aid Workshops to be aware of all of the ways you can get money to help pay for college, including ways to get the money you don't have to pay back – we even have a scholarship just for ETS students
Academic Workshops which can cost hundreds or thousands of dollars to attend that review SAT (I & II), ACT, PSAT, Essay Writing, and other exams, where, as with all of our services, you'll get to take the workshop for free
PSAT (Preliminary Scholastic Assessment Test) & SAT (Scholastic Assessment or Aptitude Test)
practice exams to help you do your best on these exams
Technical Workshops with Computer Lab Access to learning the shortcuts and benefits different computer programs have so you can work quicker and improve your assignments
Cultural Activities to explore the rich diverseness of local communities and customs through multicultural activities and field trips which expands your knowledge of the world around you
Community Service Hours (by referrals) allow you to create relationships within your community and build your extracurricular activities for college applications and resumes
High School Summer Institute gives you activities and field trips to explore STEM (Science, Technology, Engineering, and Math) careers and majors and review potential colleges and universities with these majors
Middle School Collegiate Program (Summer Only) where you will have an introduction to college-level study habits, essay writing, and research techniques
Students in grades 6 through 12, or those who want to re-enter high school and complete a GED program or the California High School Exit Exam (CAHSEE)
Between the ages of 11 – 27 years old
Be a potential first-generation college student (where you will be the first in your family to go to college) and/or a student from a low-income household
Are attending one of these schools (some exceptions apply):
Be a U.S. citizen or permanent resident (this is a federally-funded program)
Plan to attend and graduate from a two-year and/or four-year college or university after you graduate high school
Complete an ETS application
Complete the College K-12 form which must be approved and signed by your school officials
High School students' Summer Institute, a STEM and mentoring program, will begin June 2020.
Middle School students' Collegiate Program will start no later than June 8, 2020.
ETS staff members will demonstrate knowledge of the ETS program by completing referral forms, weekly schedules, contact forms, time and effort sheets, and increase their knowledge of the college applications process.
ETS staff members shall attend ETS training retreat during the Fall and Spring semester, as well as a yearly Personal Development Conference(s).
Educational Talent Search
Office Hours and Location
Mondays to Thursdays: 8:00AM - 4:30PM
Saturdays to Sundays: Closed
Student Services Building, Room 229