Frequently Asked Questions & Additional Terms
Check out our Financial Aid Terms and FAQs! If you still have questions, live chat to speak to a Financial Aid Rep.
Financial Aid FAQs
Your enrollment status is calculated by how many units you are enrolled in each term.
Full-time enrollment = 12 or more units
Three-quarter time = 9.0 to 11.5 units
Half-time enrollment = 6.0 to 8.5 units
Less than half-time = 1.0 to 5.5 units
Your financial aid award is based on how many units you are enrolled in. Federal and state financial aid covers up to 12 units per semester. For many types of financial aid, if you continue to qualify for it, you are allowed to receive it for up to 12 semesters.
Once you receive your financial aid funding and start school, LASC is required to review your Enrollment Status after the Add/Drop Deadline each semester to determine if you made any changes to your schedule.
If you are paid financial aid at one level of enrollment and drop a class or change a class to one with fewer units than the previous class, thereby having less units than you had at the start of the semester, you may be subject to repayment of some of the funds you received.
You cannot receive financial aid, including the California College Promise Grant, for any audited class you are enrolled in. No exceptions can be made to this policy.
You can only receive financial aid from one college for each year you apply for aid.
Colleges within the Los Angeles Community College District (LACCD):
Consortium Agreements are in place for all colleges within the LACCD for any class(es) you take at these colleges. This means if you are enrolled in LASC and want to take a course (or more) at one of LACCD's eight other campuses, you will receive financial aid funds for all of the units taken at those colleges and LASC combined as long as you have qualified for financial aid through LASC.
These Consortium Agreements' benefits also work for students enrolled in other LACCD campuses who take classes at LASC. They will get financial aid funding from their college for all units taken at their college and LASC.
Colleges outside of LACCD:
If you wish to take a class (or classes) at another college or institution while enrolled in LASC, you will need to complete a Consortium Agreement Form in order to receive financial aid for the class(es).
If you are enrolled in another college and wish to take a class (or classes) at LASC, you will need to talk with your college's Financial Aid Office on how to receive financial aid for the LASC class.
If you need to drop a class or classes, it is extremely important that you to drop your class(es) through the Admissions Office before the Add/Drop Deadline for that semester.
It is your responsibility to drop classes you do not attend or do not want to continue taking. Failure to drop classes may result in a financial aid overpayment where you may be required to repay all or some of the aid you have already received.
If it is confirmed that you need to pay back some or all of the money you received and you do NOT repay it, a hold will be put on your academic records. Also, your debt will be reported to the Department of Education for collection and you will not be eligible to receive further financial aid at any post-secondary institution in the United States until the debt is paid in full.
If you change your classes before the Add/Drop Deadline and this changes the number of units you are enrolled in, you may notice adjustments made to your award. No further adjustments will be made to your award after the second Disbursement date for the Fall or Spring semester unless you have further outstanding financial aid debt you need to repay. This will be deducted from your future financial aid disbursements until it is repaid in full.
A hold is a block on your account that prevents you from being able to do things, such as register for classes or get your transcripts. A hold is placed on your account if you owe LASC or another public college money, or you haven't met a specific enrollment requirement. If you have a hold on your account, contact the Financial Aid Office or Admissions & Records and they will let you know what you need to do to have it removed.
You are considered a Recipient of Benefits if, at the time of enrollment you are a part of: the TANF/CalWORKs Program (formerly AFDC), Supplemental Security Income/State Supplemental Insurance (SSI), or General Assistance Program (GA).
You will need to show documented proof of your benefits.
If you are a non-resident student whose financial aid application has been processed and your eligibility for an award has been established, you can meet with a Financial Aid Technician to put your tuition payment on hold, which is called making a Tuition Deferment.
LASC's Financial Aid Office will give you a Tuition Deferment form to use to register for classes. The form will show how many units you plan to take and how much aid you will receive.
The Federal PELL Grant, Cal Grant, and other aid may not pay your full tuition. If so, you will need to pay the remaining balance which may be several hundred dollars depending on how many units you are taking. Tuition fees must be paid at the time of registration. You can subtract your award from your tuition fees to calculate how much you may owe at the time of registration.
Financial Aid / FAFSA / CADAA Questions
Financial Aid is monies from federal and state governments and private sources. These monies come in the form of grants, fee waivers, scholarships, loans, and part-time employment.
These monies are available to help you and your family pay part or all the costs of college, depending on your need. Financial aid helps make it possible for you to continue your education beyond high school.
FAFSA stand for Free Application for Federal Student Aid. The FAFSA is the form you need to fill out to receive federal financial aid, and will also qualify you for state financial aid.
The FAFSA asks for information about you and your family's finances, including tax returns, so you may need your parents' help to complete it if you are under 24.
If you are unable to fill out the FAFSA, the California Dream Act may allow you to apply for and receive state financial aid.
The California Dream Act allows undocumented and nonresident students (U.S. Citizens and eligible non-citizens) who qualify for a non-resident exemption under Assembly Bill 540 (AB 540) to receive certain types of financial aid such as: private scholarships funded through public universities, state administered financial aid, university grants, community college fee waivers, and Cal Grants.
In addition, the California Dream Act, allows eligible students to pay in-state tuition at any public college in California.
Completing the California Dream Act Application (CADAA) is the first step towards seeing if you are eligible for these awards.
You can apply for the FAFSA at WWW.FAFSA.ED.GOV and the CADAA at https://dream.csac.ca.gov/.
Be sure to list Los Angeles Southwest College's School Code (007047).
The newest FAFSA and CADAA are released every October 1st for the year prior to the upcoming academic year. For example, the FAFSA or CADAA for the 2021-2022 academic year is released on October 1, 2020.
You need to apply for financial aid every year you are enrolled in school. Your eligibility for financial aid can be different from year to year.
As long as you continue to qualify for financial aid, there are two qualifying factors for how long you can receive most types of financial aid – time and units taken.
TIME: Most financial aid eligibility is based on students completing specific educational goals within a specific amount of time. Whether you are able to attend college full- or part-time, you are still only allotted 12 semesters (the equivalent of six years) to complete your educational goal(s).
If you need to retake a class, or if you decide to change your educational goal(s), you do not get to extend the time you are allotted.
This also includes receiving financial aid while getting your bachelor's degree. You still need to complete your degree within the 12-semester limit to receive financial aid at a four-year university or college.
UNITS TAKEN: There is a 150 Percent Rule where your financial aid will be terminated as soon as you reach taking 150 percent of the number of credits or units needed to complete your declared degree.
For example, if your declared degree requires you to complete 60 units to graduate, you can take up to 89 units before your financial aid ends. This allows you to retake classes or switch majors, if you choose. This limitation applies to all students.
Keep in mind, this limitation also includes transferring to a four-year college or university to get a bachelor's degree. These limits will extend to 150 percent of your bachelor degree required units.
For example, if your degree requires 120 units to graduate, you can take up to 179 before your financial aid ends.
But remember, the maximum time allowed to receive your financial aid is still 12 semesters which will include the semesters you took at community college.
For financial aid purposes, the U.S. Department of Education and the state of California classify all aid applicants into two categories -- Dependent students (under 24) and Independent students (24 and older). Dependent students must include their parent's income information on their FAFSA or CADAA.
Usually, you will qualify as an independent student when you are 24 years or older.
The following reasons do not qualify you to be independent:
you do not live with your parent(s)
your parent(s) are financially unable to pay for your college education
your parent(s) refuse to pay for your college education
you do not want your parent(s) help
your parents do not live within the U.S.
If you are truly unable to obtain your parent(s)' information due to extremely special circumstances, you may speak to a Financial Aid Technician, but be prepared to document your special circumstances.
The first step is always to complete the FAFSA or CADAA.
If you and/or your parents have experienced a loss of income because of a loss of a job or another unusual hardship, please make an appointment to talk with your Financial Aid Technician.
Be prepared to provide documentation your unusual circumstances.
The school code for Los Angeles Southwest College is 007047.
To qualify for a fee waiver, you must be a California resident and be enrolled in at least one (1) unit.
To apply, complete the FAFSA or CADAA. If you meet the fee waiver (California College Promise Grant) eligibility criteria, you will automatically be processed for a fee waiver.
The Fee Waiver waives the enrollment fees only. It does not waive parking, books, auditing fees, Associated Students Organization (ASO) fees, student representation fees, health fees, or any other fees or expenses.
The waiver is good for the entire academic year July 1st – June 30th and is valid at all nine campuses of the Los Angeles Community College District.
If you apply and are eligible for a Fee Waiver but have already paid your fees, you should complete a "Request for Refund" form you can receive from the Business Office, SSB, Room 103.
Depending on your financial situation, you may find you either don't qualify for financial aid, or the amount you receive doesn't cover all of the costs of college. There are other options!
First, apply for Scholarships, as there are thousands that do not have income level requirements but are based on other aspects unique to you, such as different areas of your background and what field of study you are entering. And, talk with your instructors to find out if they know about scholarships related to the academic program you could apply for. Scholarships are well worth the time and can help you receive the funds you need to cover college costs.
Check out our Paying for College page that lists many alternative ways to find extra money for college, including starting a side gig and applying for paid internships.
You can also talk with the Business Office about setting up a Payment Plan to help you pay your tuition and fees in smaller increments.
And, only as a last resort and as long as you were eligible to complete a FAFSA, you can apply for a Federal Direct Stafford Loan. California community college CADAA applicants are unable to apply for Dream Loans until after they transfer to a UC or CSU.
If you withdraw from all your classes, you will most likely have to pay part or all of your financial aid back to the government. You do not have to pay back the money you earned as a work-study student or your fee waiver.
You will be notified via email on how much you owe. Failure to repay will prevent you from being able to get any future financial aid anywhere in California and the United States
Be sure to complete the application accurately. If available on the FAFSA, use the Data Retrieval Tool (DTR) to transfer over your or your parent's tax information.
Make sure to check your student portal (www.MYCOLLEGE.LACCD.EDU) to complete your TO-DO LIST. Also, check your student email address for anything that might be pending.
Be sure to keep on hand all of the documents you used to fill out the FAFSA or CADAA, such as tax returns and W-2s, DHS (INS) documentation, Social Security card, etc.
Remember that the FAFSA and CADAA applications are available every October 1st cxfor the following year. Apply as soon as possible to get the maximum funds you are eligible to receive.
There are two financial aid disbursements per semester. LASC will give you your financial aid money through Bank Mobile Vibe.
You will receive a refund selection kit by mail once you have completed the FAFSA or CADAA and are registered at LASC. You must choose to receive your financial aid money through the myLACCD card or have your money electronically transferred directly into your savings or checking bank account.
You can read more about how BankMobile works in the section titled "How Do I Get My Financial Aid Funds?" on the Financial Aid homepage or check out the FAQs page at bankmobilevibe.com.
Your Award Letter can be viewed on your student portal after the Financial Aid Office has processed your file. The college uses the information from your government Student Aid Report (SAR) and other college records to determine what Types of Aid you are eligible for and for how much.
The Award Letter contains a list of all grants, fee waivers, loans, work-study, and financial aid you are eligible for in the academic year or term you applied for.
The amount shown on the Award Letter is the amount a full-time student (12 or more units per semester) would receive. If you are enrolled less than full time, the amounts you receive may be less.
Grants are usually free federal or state funds you receive for going to college and following certain requirements. They do not usually have to be repaid.
Loans must be repaid (plus any accrued interest). For some loans you don't have to start repaying until after you leave college or drop below half-time enrollment (6 units).
Work-Study is money you earn by working part-time while in school. Money earned here never has to be repaid.
You must first complete the CADAA and then complete the "Application Conversion Form G-55" which can be obtained at: www.csac.ca.gov/post/application-conversion-form. Please make a copy of this form for your records, send the original form (along with documentation to prove your identification) to the Commission, and contact LASC's Financial Aid Office to inform us of the error.
No, your parents' citizenship status does not impact your eligibility to receive financial aid under the California Dream Act.
If you are under the age of 24 as of December 31 of the award year and do not meet any other very limited criteria, you are considered "Dependent" for financial aid purposes and therefore, must provide parental information.
One parent must sign your application, even if you do not live with your legal parents (your biological and/or adoptive parents). Widowed stepparents, aunts, uncles, grandparents, foster parents, siblings, or legal guardians are not considered your parent(s) for financial aid purposes, unless they have legally adopted you.
If you are unable to get your parent(s)' information, complete the application as much as you can and contact LASC's Financial Aid Office as soon as possible. We will evaluate your situation and inform you if we can override the need for parent information.
Note: For a complete list of "Dependency" questions, to help you determine whether you are dependent or independent for financial aid purposes, please visit: www.studentaid.ed.gov/sa/fafsa/filling-out/dependency
For help with determining which parent should be included on your CADAA, please visit: www.studentaid.ed.gov/sa/sites/default/files/who-is-my-parent.png
If you meet the non-resident exemption requirements, you may file the CADAA. Furthermore, eligible foster youth students may qualify for other types of aid such as:
Scholarships offered through California public colleges and universities
California College Promise Grant (formerly BOG fee waiver)
Private grants and scholarships
No. You may add more than one school on your financial aid application, but you cannot receive aid from more than one school during the same term. You must decide which school you will want to receive aid from.
Sometimes the main school you are attending (the primary school) may agree to count units being taken at another school (the secondary school) towards your overall aid. These units must be needed to complete your educational objective/ goal at the primary school. Ask your Financial Aid Technician about a "Consortium Agreement" if you have this situation.
Keep in mind that LASC will be the primary school only if the secondary school is another two-year college and LASC will pay only aid after the secondary course(s) is/ are approved and are successfully completed.
Yes and No. Financial aid doesn't "automatically transfer" from one college to another, because each institution may participate in different aid programs and each has its own policies. It is also the responsibility of each college to determine a student's eligibility for financial aid.
You can apply for financial aid only once per academic year. Academic years generally run from July 1st of one year through June 30th of the next. You may not get aid from two schools during the same terms, but you may get aid from one school during one term and another school during a different (non-overlapping) term within the same academic year.
If you transfer mid-year to a new school, you do not have to fill out a new FAFSA (or CADAA if attending a California community college). You need to add your new school to your existing FAFSA or CADAA. Please check with your new school to find out if you need to do anything else.
NO! Remember there is no fee charged to apply for financial aid. The only way to know if you are eligible or not is to complete the FAFSA or CADAA. Also, not all aid (such as certain types of scholarships and student loans) is based on having financial need.
No, if you are still in high school, you are not eligible for financial aid. But, you can have your fees waived by completing the supplemental application with the Admission and Records Office, Room 102, SSB.
No. Race and ethnicity are not factors at all when determining the federal and state financial aid eligibility of a student. They may be a requirement for some privately-funded scholarships.
To receive a Pell Grant and/or a fee waiver, you must be enrolled in at least one (1) unit. However, your Award Letter is based on full-time status (12 units or more).
The Financial Aid Office staff is always happy to answer general financial aid questions over the telephone.
If you call the Financial Aid Office, you may be asked to provide identifying information. The Financial Aid Office does not release some specific student financial aid information over the phone to protect the student's right to privacy.
The Family Education Rights and Privacy Act (FERPA) allows us access to a student's records only if we can be reasonably sure that the caller is the student.
Some issues are best handled via online video chat.
We are committed to processing financial aid applications as quickly as possible.
There are situations that prevent the Financial Aid Office from processing an application quickly.
Applications with conflicting or inaccurate information may require a correction which can take several days. Additional documents may be needed after a correction. Please note that the Financial Aid Office is not be able to process an application without the missing documentation. Applications sent in later in the year will be processed in the order in which they are received.
Please submit your application as early as October 1st for the following Fall semester.
For the most part, No. A foreign national who is in the United States for a temporary purpose (such as studying, tourism, temporary employment, etc.) is not eligible for federal or state government financial aid such as the PELL Grant, Cal Grant, BOGFW, or Stafford Loans.
We recommend contacting LASC's International Student Services to see if there are any available scholarships or other aid to help you.
Details on PELL Grant recipients and completers can be found below: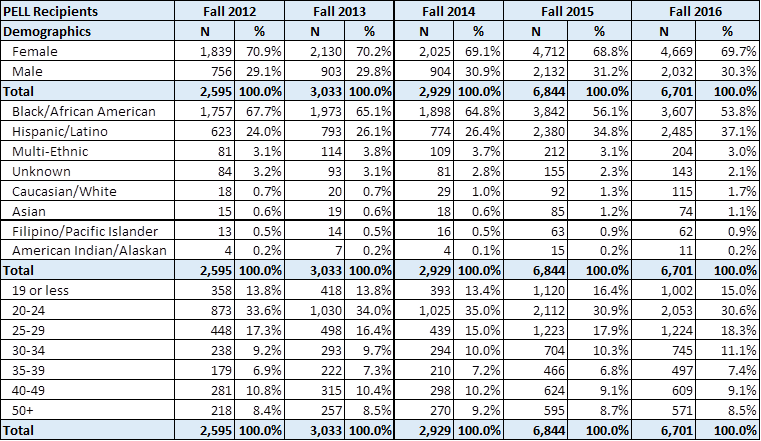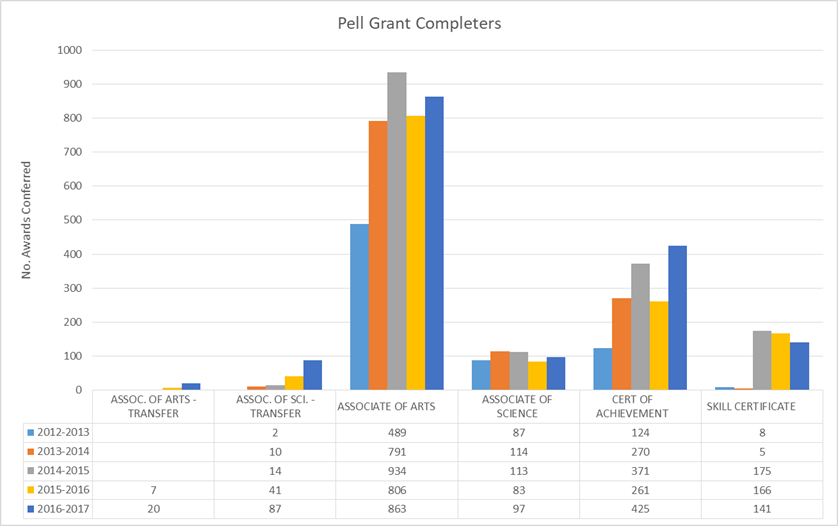 Financial Aid Office
Office Hours And Location
Mondays to Thursdays: 8:00AM - 6:00PM
Fridays Remote Only: 8:00AM - 4:30PM
Saturdays to Sundays: Closed
Student Services Building, Room 104